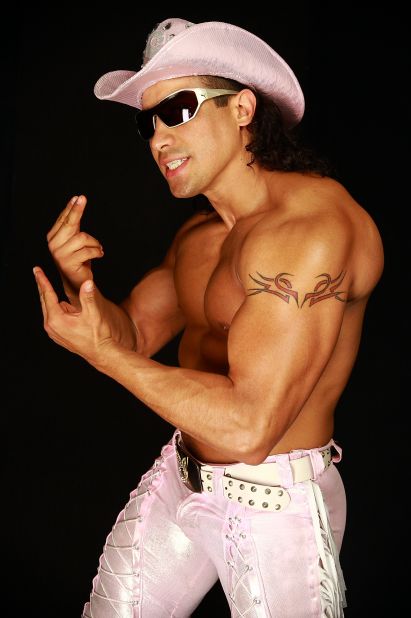 Ring Name: El Macho Suave
Real Name: Eduardo Martines de la Asunción Luis Conzaga Guadalupe Refugio Luz Loreto Salud Altagracio Cármen Jose Ignacio Francisco Solano Vicente Ferrer Antonio Ramon Agustin Carlos Inocencio Federico Gabriea de Dolores de los Sagrados Corazones de Jesús y de María Saldivar y Saldivar (I took the first letter of the first name, "first" middle name and last name to create the ring name)
Current Alignment: Tweener (Face for the ladies and Heel for the Cabróns)
Age: 20
Height: 6' 1"
Weight: 220lb
Class: Speed(with the girls though...i'm slow and patient..lol)
Finishers
The 4 L's (Latin Lover Leaping Leg) - When both wrestlers are running i jump in the opponet direction spining in the air and hit the face of the opponent with my right leg.
Humping Chiuaua - when the opponent is laing defendless in the mat i make a moonsault over the him lock both his legs up touching the opponent shoulders on the mat..like...well this move is based in the way that chiuauas......well you got the picture!!!
Sparkling Collar - when the opponent is totally defenseless i start to dance,showing his best and sexiest moves, sundenlly i jump highly hitting the opponent with a spinning double leg lariat.
Signature/Trademark Moves
Trade- I like on top (modified standing moonsault)
Sig- Modified Springboard Hurracanrana
Sig- Modified Moonsault
Bio
Born on a small city on Mexico called Chiuaua, Macho was a poor, small and skinny child that for woked really hard with his parents that had a pet shop especilized in chiauas, a race of dogs. Selling that kind of dogs for big pet shops in the USA, that was re-saled for spoiled and riche girls for 10 times the price. But his destiny changed the day when he saw a wrestling match, where the wrestler were like "rockstars", all the money, fame and especially the girls, he was 15 years old. Training his speed and agility, he entered in the world of wrestling, for fame, money, crazy partys...and chicas...
Gimmick
His mostly a cocky wrestler, in the ring and in the mic! Mostly he uses all kinda of dirty stuff to get where he want to get, win a fight by DQ, or hurt someone after a match just for revenge!!! But when it come to DIVAS...his like a "puppy" for the girls!! He mostly uses "sexy cowboy clothes", playboy simbols, changing the colors for every match, and usualy enters with a diferent "manager" every match he can (i'm a free spirt, i don't wanna attached to a single girlfriend..lol)

---
Permissions in this forum:
You
cannot
reply to topics in this forum